Discovering South Africa's 10 World Heritage Sites
Posted on Wed September 26, 2018.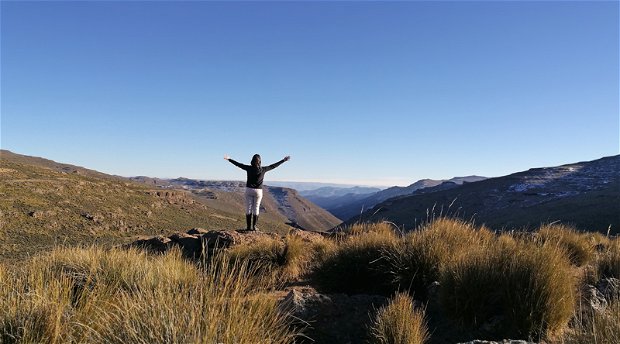 Discover South Africa's many UNESCO World Heritage Sites - from the magnificent mountains of the Drakensberg to the floral kingdom of the Cape and everything in between!
Did you know that South Africa is home to a number of UNESCO World Heritage Sites? This Heritage month we couldn't be prouder to call this country home and are blessed to have one of these world heritage sites right here on our doorstep! 
Find out more about each of South Africa's World Heritage Sites here:
1. Maloti-Drakensberg Park
      © Ryan Avery
Crossing the borders of both South Africa and Lesotho, this magnificent park is not only home to the spectacular Drakensberg mountains but also to a wide array of plants, birds and wildlife. The impressive Drakensberg can be explored in a number of ways, be it on foot, by 4x4 or mountain bike and the areas myriad of waterfalls, rock pools, rock formations and dramatic vistas are well worth a visit. Based just outside the Underberg, and only two hours from Durban, Umzimkulu River Lodge is the perfect base from which to explore the Drakensberg region.
2. Richtersveld Cultural and Botanical Landscape
© Vincent van Oosten
Covering 160,000 hectares of desert and mountains, South Africa's Richtersveld is a unique landscape where the nomadic Nama people still reside. In order to protect this unique culture and land-use system, the area was protected in 2007. This is also a great place to see the spring flowers when they bloom during the months of August and September. 
3. Robben Island
© South African Tourism
Famous for its use as a prison during apartheid where the former president Nelson Mandela was incarcerated, Robben Island is a must-see destination. Located off the coast of Cape Town, Robben Island is now a symbol of hope and freedom over oppression and racism. 
4. Fossil Hominid Sites of South Africa
© Francesco Bandarin/ UNESCO
Located in Gauteng, the Taung Skull Fossil Site is home to a number of skulls and fossil that showcase the origin and evolution of humankind. Also in the area, you will find the Makapan Valley caves where a number of great archeological finds have been made. 
5. iSimangaliso Wetland Park
© UNESCO
Located just four hours from Umzimkulu River Lodge, and the perfect addition to your Drakensberg trip, iSimangaliso Wetland Park is famous for its pristine coastal dunes, wetland and lake systems and vast marine life. Spend your days viewing the myriad of game species that can be found in iSimangaliso or even enjoy an excursion to watch the turtles nesting or hatching during the season which runs from November to March. iSimangaliso is also a prime bird watching destination!
6. ǂKhomani Cultural Landscape
© South African Tourism
Located in the north of South Africa, where the country borders Botswana and Namibia, this area is associated with the ǂKhomani San people. This arid desert area not only is home to stunning landscapes and a wide variety of wildlife but also gives a unique insight into the traditional way of life of its indigenous people.
7. Barberton Makhonjwa Mountains
© Tony Ferrar
In North-East South Africa lies one of the world's oldest geological formations. Dating back over 3 million years, these mountains represent one of the best-preserved succession of volcanic and sedimentary rock. This area is stunningly scenic, home to a number of small game reserves and a mecca for hikers and bird watchers.
8. Cape Floral Region Protected Areas
© S Molteno
Made up of a number of national parks, wilderness areas, nature reserves and forested areas, the Cape Floral Region is home to the country's iconic Fynbos. In terms of diversity and density, this small part of the world is a unique environment when it comes to plants and is regarded as one of the world's six floral kingdoms. Although being the smallest of the six, it is the most diverse. With Table Mountain and Kirstenbosch Gardens falling within the Cape Floral Region, this is a tourist hotspot and one of the most picturesque regions on Earth.
9. Vredefort Dome
© UNESCO
120km from Johannesburg, the Vredefort Dome is the largest meteorite crater on Earth. With a radius of 190km and dating back some 2000 million years, the 'dome' provides a unique insight into the history of our planet. The landscape is dotted with small hills and beautiful valleys and is a very scenic area to visit.
10. Mapungubwe Cultural Landscape
© Marius Loots
Set on the border of Botswana and Zimbabwe, Mapungubwe showcases the almost untouched remains of the palace and settlement of what was once the largest kingdom in Southern Africa. This area was abandoned in the 14th century but today is an interesting site to visit to gain an understanding of the cultural history of the country.